Whinge
Gums Glisten Gloriously
posted: 03/27/07
Director Robert Altman dead at 81
LOS ANGELES, California (AP) -- Robert Altman, the caustic and irreverent satirist behind "M-A-S-H," "Nashville" and "The Player" who made a career out of bucking Hollywood management and story conventions, died at a Los Angeles Hospital, his production company said Tuesday. He was 81.
Drag... It was so very tempting to imagine Altman bucking on inevitably, irretrievably, overlappingly. I have profound respect for the man and for his body of work. A huge loss. Rest in peace. More at The Times. We're back from a trip to London, Paris and Nice (and thereabouts), France. So much ground covered in too little time. Many pictures and commentary to come. For now I'll just say thanks once again to my incredibly kind friend, the wonderful guitarist Amrit Sond, for his hospitality and generousity. Amrit and I shared the stage in the U.K. two nights running, and it was a truly fab time. Thanks, mate!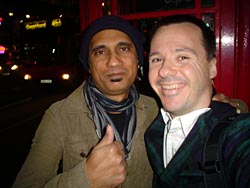 I did manage to make some progress on the new record while abroad (the Côte d'Azur never fails to inspire). I'm looking forward to getting back into the studio. In the near term, I'm working on two new podcasts. They'll be up in the soon-to-be. For real. Play the podcast.
Get it: on iTunes |

Huh? Wazza? Help! Happy Thanksgiving, folks. Click to share:
»Whinge Archives